The training bus was formerly 3BL22, bearing a 2nd generation grille

Olympian

Amid the economic boom and growing population in 1980s, the demand of public transport soared. This triggers franchised bus operators to look for buses with higher capacity. Both CMB and KMB started to acquire Olympians after it was unveiled in Britain. Five prototypes of the standard 9.5-metre and the extended 10.3-metre version were put into service in late 1970s, serving cross harbour route 112 (BR1 & BR2 for CMB and BL1-3 for KMB). Both of them were in ECW body. KMB also introduced 12-m version (3BL) which was designed specifically for Hong Kong market. After success of trial, KMB started to introduce the 3-axle class in large. It contains features that were once a breakthrough:

(1) Frontal radiator - cooling water from rear engine flow to radiator via duct has much higher cooling efficiency

(2) Larger air inlet and exhaust and additional fan increase air influx

(3) Steering ¡V 2nd axle capable of steering synchronously with the front drive

The buses were equipped with Gardner 6LXCT turbocharged engine and 3-speed Voith automatic transmission system. Its air suspension consists of damper and inflatable air bag that made the vehicle extremely stable when tilted.

Several generations of Olympians had ever existed in KMB fleet, having different body components and mechanical design. (Table 1 shows the characteristics of BL, 3BL, S3BL)

¡@


¡@

¡@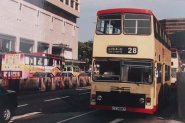 BL12 was one of the first batch of 10.3 m version, was spotted running in urban route 28.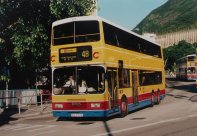 CTB375 had just departed from Wong Chuk Hang Terminus when serving route 48.
Owing to dissatisfaction of CMB to the performance of Leyland products, CMB selected Metro Cammell as its supplier of high capacity 3-axle buses until 1990 when MCW closed down. CMB introduced its first Olympian since 1990. It was a 11.3-m air-conditioned version (LA class). The LA class had only 25 members, followed by 10 non-A/C version (LM class) delivered in 1993 before
the Workington plant of
Leyland bus section was
closed and its production line migrated to
Volvo.
Citybus (CTB) established its fleet mainly on Olympian from the time it started providing cross border service. CTB was the first HK operator to introduce A/C version into its fleet (101-105). Since then, it has also introduced several second-handed Leyland Olympians in ECW ROE bodies into its non-franchised division. In 1993, Citybus bought 54 Leyland Olympian 12-m omnibus, numbered from 342-395, and 23 10.4m single entrance version (206-238) to support the newly awarded Network 26.
Meanwhile, KCRC acquired Olympian with the aim to replace their MCW Metrobus MK1. They served till late 2010 when the brand new ADL Enviro 500 entered passenger service.
¡@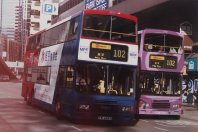 CTB342 and CTB395, the first and last one of the 12-m omnibus class, were both spotted serving route 102.