(Upper)LV29 was working in route 95 in CMB livery before repainting into standard NWFB livery (Below).

Victory MK

2

Despite success of fleetline, they do have demerit of poor slope climbing ability, which not only erode efficiency but also leads to high mechanical wearing of transmission system. Coupled to Transport Department requirement in which only buses equipped with retarder should be used in running routes that pass over slopes, both CMB and KMB looks to front engined Victory MK2 when Leyland develop it for HK market in 1978.

It was developed from Guy Victory J in South African bodywork, where 4 prototypes were delivered to KMB.

The subsequent models were built with Walter Alexander CB bodywork. As a standard mechanical constituent, they were fitted with Gardner 6LXB engine and Voith D851 3-speed fully automatic transmission system.

It has its own advantages and disadvantages:

Advantages-

(1) High Power Output

(2) Short body-flexible for roads in HK Island

Disadvantages-

(1) High Load Centre

(2) High Floor

(3) Narrow corridor in lower deck

(4) Full Speed too low

(5) Noise and Heat from front engine dissipated to passenger cabin

However, the advantages still outweighs the demerits. Its high torque and flexibility deserve to take major role in fleets of CMB, KMB, NLB. Most of them have had served from 1980 till 1999 when LV30, the last one under NWFB, was withdrawn on 30 Aug 1999.


¡@

¡@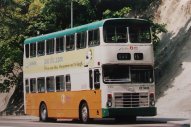 LV12 was seen climbing the steep Shek Pai Wan Road during its service in route 95 in summer of 2000.